"Those who labor within these halls, seek only the truth."
Anneka P. Collins,
Highland County Prosecutor
Kaleb Pierson:

Following the investigation of the Flat Run Road Murder by Detective Randy Sanders, Detective Richard Warner and Detective Dan Croy with BCI&I, Defendant Kaleb Pierson confessed to the murder of his 5 year old niece. After being restored to competency, Pierson entered a plea of guilty to Aggravated Murder and was sentenced to life in prison with the possibility of parole after 25 years.
Casper Lawson: In July 2013 Prosecutor Collins prosecuted defendant Casper Lawson for two counts of Rape of a child, one count of Gross Sexual Imposition, and multiple counts of Illegal Use of a Minor in Nudity Oriented Material. The jury found the Defendant guilty of nearly all counts resulting in 2 consecutive life sentences consecutive to 220 months!
Matthew Graham:

Found by the Highland County Sheriff's Office to be in possession of over 250 grams of heroin which he intended to sell in Highland County. The Defendant was found guilty and sentenced to 10 years in prison!
​
Organized Crime: The Highland County Prosecutor's Office has prosecuted two organized crime cases in the past year. The organized crime was the drug trade. In August, 2011 two defendants went to trial and were found guilty of all counts and each was sentenced to more than 11 years in prison . All other defendants entered pleas of guilty in these cases and were sentenced to more than 85 cumulative years in prison. Additionally, cars, cash, real property, and tangible property was seized for use by the Highland County Sheriff's Office and the Highland County Prosecutor's Office in the furtherence of justice in Highland County.
​
Chris Jenkins: Defendant Chris Jenkins was charged with Illegal Manufacture of Methamphetamine, Illegal Assembly or Possession of Chemicals for the Manufacture of Methamphetamine, Child Endangerment, and Assault on a Police Officer. After an investigation by the Greenfield Police Department, it was found that Jenkins had an active methamphetamine lab in his coat and was using his young son to hide the lab from officers. On May 10, 2012 the case was tried to a Highland County Jury. After 30 minutes of deliberation, Jenkins was found guilty of all counts and was sentenced to 14 years in prison.
​
From June 1, 2011 to present, there have been 73 prison sentences with an average length of incarceration of 11.55 years. The average days from indictment to sentencing is 159 days. There has been over $173,000.00 in restitution ordered for victims of crime.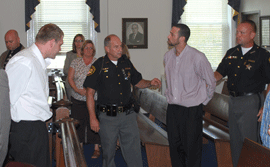 From left: Zachary Bondurant, court bailiff Dan Music, Jeffrey Stevens, & Highland County Sheriff Ron Ward following the conviction and sentencing of Bondurant & Stevens for several charges of drug trafficking & engaging in a pattern of corrupt activity. (HCP Photo/Brandy Chandler)
​Christopher Jenkins is shown being taken into custody by the Highland County Sheriff's Office following his convictions in Highland County Common Pleas Court (HCP Photo/Brandy Chandler)​
Prosecutor Anneka Collins prepares for the arrignment & bond hearing of Matthew Kaleb Pierson (T/G Photo Gary Abernathy)